If you're looking for a challenging and rewarding career that offers unlimited potential for growth and income; then you have come to the right place. An energetic, ambitious and motivated individual can, conceivably, write his own check.
REALTORS® enjoy the flexibility of scheduling their work hours to coincide with the demands of other life commitments. This makes Real Estate a perfect enterprise for those that have primary careers.
New York State has very stringent rules on licensing REALTORS® :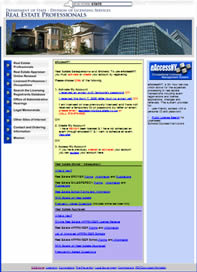 The NYS Department of State has updated their Web Site to include an entire section for Real Estate Professionals. They have added eAccessNY: a 24- hour service, which allows for the expedited processing of real estate transactions including exam registrations and license applications, changes and renewals. The system provides for:
1. User friendly access using a personal ID and password.
2. Public License Search for Schools/Courses/Instructors.
You can access the NYS DOS Web Site for Real Estate Professionals here: http://www.dos.state.ny.us/lcns/realestate/index.html
New York State's rules on licensing REALTORS® :
1. An applicant for a Real Estate Salesperson license must be at least 18 years old, not be more than 4 months behind in Child Support payments and must supply information on any crimes they may have been convicted of.
Note: Lawyers that have been admitted to the N.Y.S. Bar are exempt from these requirements, however, they must fill out an application and pay the Licensing Fee.
2. You must, successfully, complete a qualifying 75 hour Real Estate Salesperson qualifying course. N.Y.S. provides a list of approved schools and courses on their Real Estate Web Site. Access that list here. Note that DOS has changed the licensing rules since July 1, 2008 and there are additional requirements as dictated here: http://www.dos.state.ny.us/lcns/realestate/july108req.html
3. Once you have passed a Qualifying Course; you must find a Broker that will sponsor you for your license. You can search for a Broker using our own "Find A REALTOR®" link on the Menu Bar (above) or you can request our staff to provide a referral.
4. Once you have completed the Qualifying Course you may take the N.Y.S. Real Estate Salesperson License Exam. The rules have changed since July 1, 2008: Applicants are required to schedule their real estate salesperson exam on the "NEW" Occupational Licensing Management System, eAccessNY. In addition to being able to apply for the exam on eAccessNY, you will now be able to view your scheduled exam details or exam results and apply for your salesperson license, online. You will also find Instructions and locations on this page. There is a $15 fee for the exam.
5. Upon successfully passing the examination; you must fill out and submit a N.Y.S. Real Estate Salesperson Application (forms and instructions available here). You can download the application in PDF format here: http://www.dos.state.ny.us/lcns/realestate/pdfs/0022.pdf . A completed application must include the application form; original examination admission slip marked "PASSED," nonrefundable $50 fee and appropriate documentation as applicable.
6. Congratulations, you may now become a REALTOR®. Click here to download our interactive Membership Application in PDF format. You may fill out this form on your computer and print it. The form requires a signature, therefore, you can not submit it online. Adobe Acrobat Reader limitations preclude this form being saved on your computer.
Submit your form with a check for $475 to: The Brooklyn Board of REALTORS®, 28 Village Rd. N., Brooklyn, N.Y. 11223.
If you have any questions please contact us via email here: This email address is being protected from spambots. You need JavaScript enabled to view it. or by telephone at 718.253.8815.